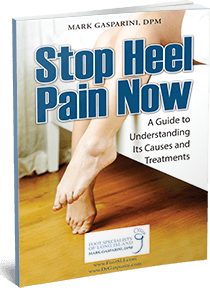 Mark Gasparini, D.P.M. is committed to providing you with not only quality foot care, but as much information as possible to keep your feet healthy! That's why we are pleased to offer you our free book, Stop Heel Pain Now, A Guide to Understanding Its Causes and Treatments.
This valuable resource gives you an inside look at why your heel may be hurting, what you can do about it, and how you can prevent it in the future. Learn about risk factors, common symptoms, and all kinds of useful tips, all for free!
To get your digital copy, simply fill out the form to the right, and if you have any questions, just let us know. Call (516) 804-9038, or visit our Foot Specialists of Long Island office in Massapequa, NY. We are happy to help.
Stop heel pain now, and start enjoying life with happy, healthy feet!